Getting to Lüneburg Heath
Auto, Bahn, Flug, oder Bus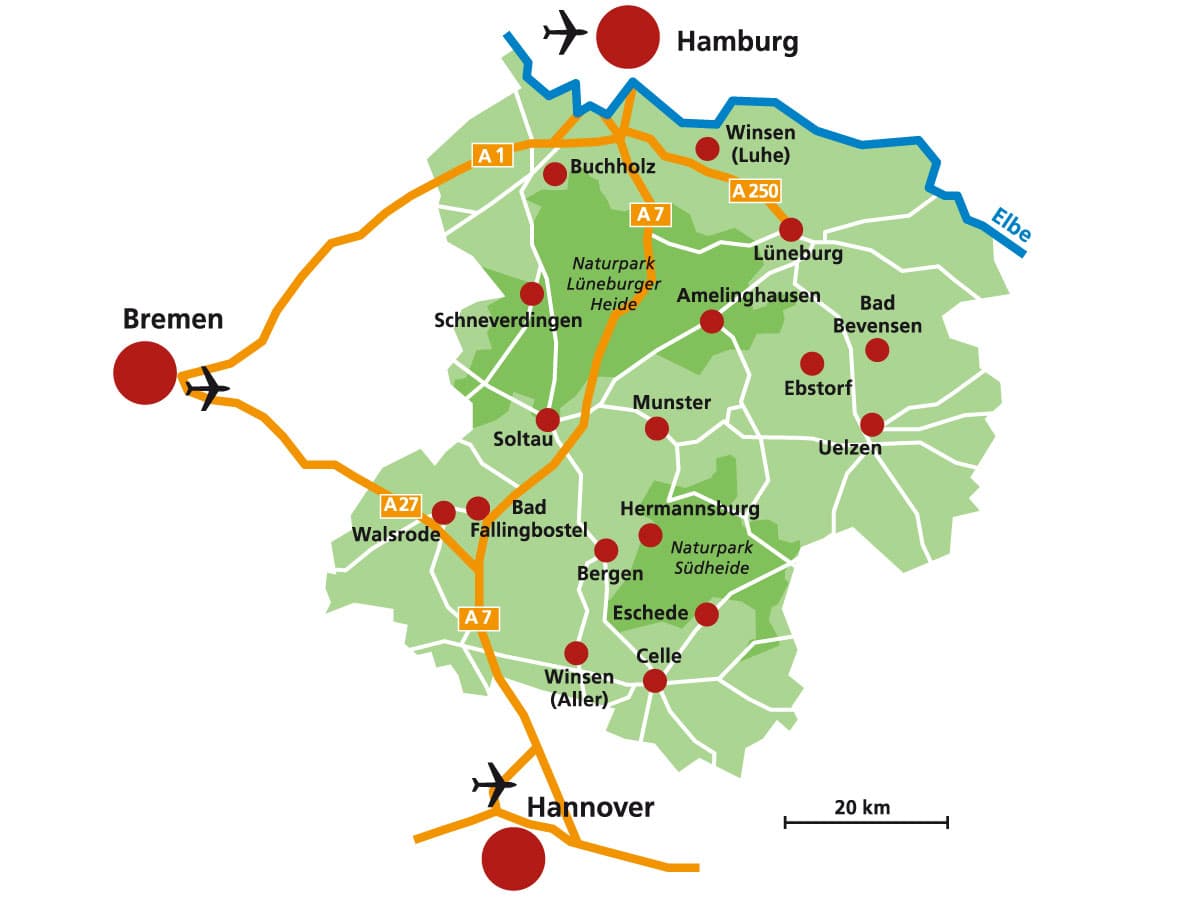 Lüneburg Heath is very centrally
located in northern Germany, between the cities of Hamburg, Bremen, and
Hanover.
Therefore, the journey to Lüneburg
Heath is very easy and fast. Whether by car, train, bus, or plane.
By car:
from the west: via the A2 and A7, travel time from Dortmund approx. 2.5 hours, from Cologne approx. 3 hours, from Frankfurt approx. 3.5 hours
from the east: via the A2 and A7, travel time from Berlin approx. 2.5 hours
from the north: via the A7 via Hamburg, travel time from Hamburg approx. 25 min
rom the south: via the A7 via Hanover, travel time from Hanover approx. 20 min
By train:
The hubs of Hamburg and Hanover
are connected by ICE. The cities of Lüneburg, Celle and Uelzen are also ICE
train stations. The travel time from Berlin to Lüneburg is about 2 hour and 40 minutes.
Note: Regional Express for a
special price from Berlin to Lüneburg. From 29 EUR return. Please inquire at Deutsche
Bahn (DB).
In addition, there are good
connections with the metronome train to Lüneburg Heath from Hamburg, Göttingen,
and Hanover - every hour from Hamburg. Metronom stations in Lüneburg Heath are at
Winsen/Luhe, Lüneburg, Bienenbüttel, Bad Bevensen, Uelzen, Suderburg, Unterlüß,
Eschede, and Celle.
The Heidebahn (DB) goes from
Hanover to Schwarmstedt, Walsrode, Schneverdingen, and Soltau. From Hamburg to
Buchholz or Handeloh.
Further information is available
from DB.
The Heidesprinter erixx train connects
Uelzen (via Ebstorf and Munster) to Soltau on the east-west axis.
By coach:
Mein Fernbus/Flixbus (Soltau, Celle
ZOB (central bus station), Bergen)
Bus stop in Soltau, Autohof Soltau
Süd, Heide Park Soltau, Designer Outlet Soltau.
Bus stop in Celle at ZOB (central
bus station). Bus stop in Bergen/Südheide.
Direct routes: from Berlin via
Magdeburg, Braunschweig. From Hamburg. From Hannover and Hameln.
Other connections with changes in
Hanover or Hamburg.
ADAC Postbus (Soltau)
In Soltau at the Designer Outlet
on the A7, the ADAC POSTBUS stops on its route from
Stuttgart-Karlsruhe-Mannheim-Frankfurt-Kassel-Göttingen-Hannover-Soltau.
Please ask your host, so you can definitely
be picked up in Soltau.
Berlin Linien Bus (Bispingen)
Bus stop at the Snow Dome in
Bispingen with connections to Frankfurt (Main), Hannover, Göttingen, Kassel,
Hamburg.
By plane:
Lüneburg Heath is served by three
international airports. Hanover is to the south, Hamburg to the north and
Bremen to the west. From all airports you need about 1 hour to the Heath.
Transfers are available at each airport; you can find them on the airport websites.
International and national flights
are available with Lufthansa, Air Berlin, Ryanair, or TUIfly. Car rental
companies are available at all airports.
A Golf category rental car costs between
80 and 100 EUR for 3 days.