Headstands, happiness and naked yoga: interview with a yoga teacher
The mountains restrict her, but the vastness of the heath is calming and inspiring.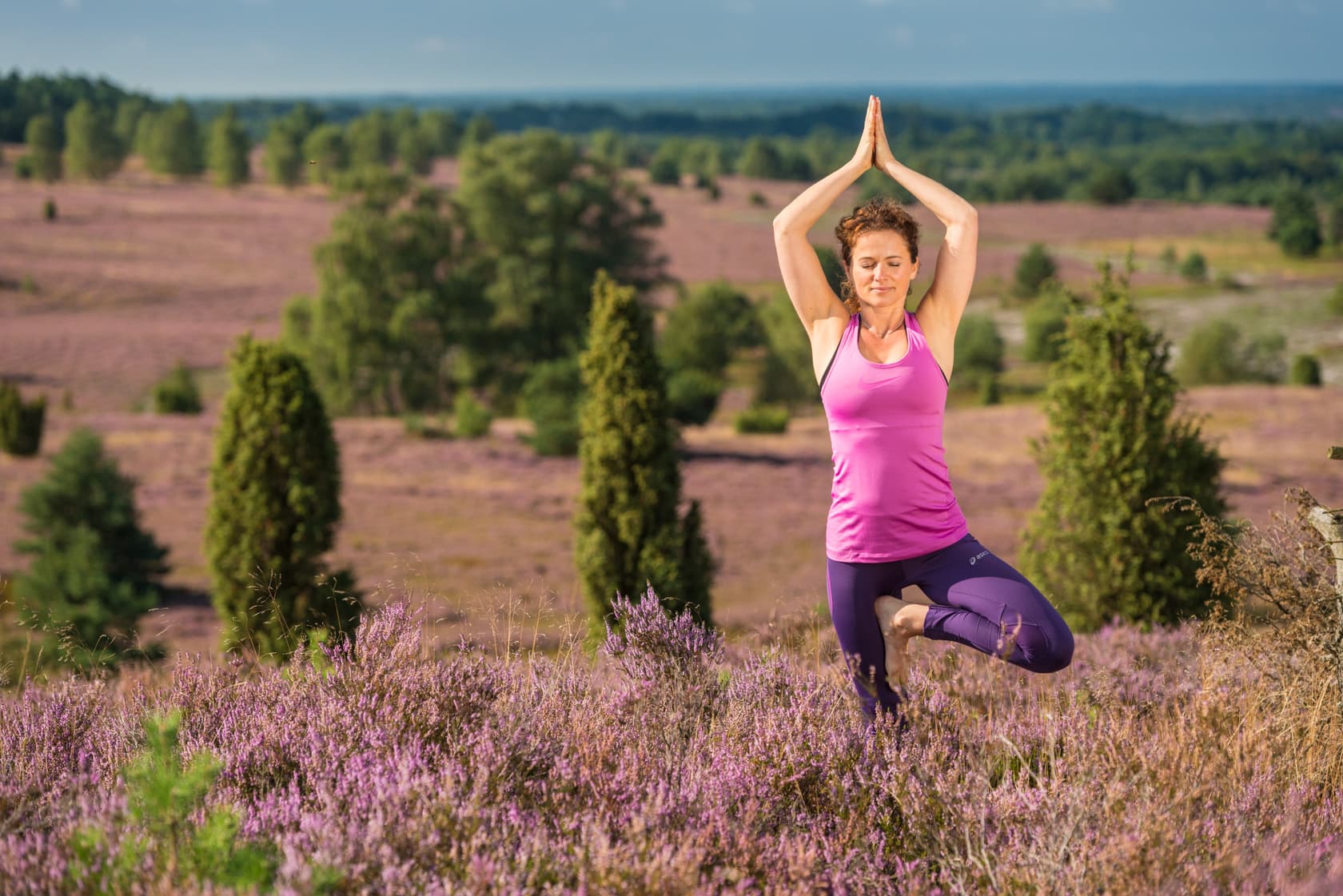 Katja Riedel opened her own yoga and nutrition studio in Walsrode eight years ago. She offers various types of yoga as well as ayurveda cooking classes.
In our interview, she tells us why she prefers yoga in the Heath rather than in the mountains and what she thinks of the new trend of naked yoga.
How did you get into yoga?
I was working in the largest shopping centre in northern Germany as an event manager and PR representative. I was looking for a supporting PR agency. When I looked into a Hamburg agency at work, I met one of their customers. She was a yoga teacher and immediately invited me to a yoga class. After my first yoga lesson, I knew that was exactly my cup of tea and the "yoga fever" had seized me.
Was there a specific trigger for becoming a full-time yoga teacher? Where did you do your training?
After 12-14 hour days in my old event management job, I often felt the need for the balance that I had found with yoga.
During this time, the desire grew more and more to deal with yoga and nutrition on a full-time basis.
After one of the most renowned teachers of the yoga scene in Hamburg offered an apprenticeship as a yoga teacher, I knew that I absolutely wanted to learn from him.
Training with the Australian yoga teacher, Lance Schuler, changed my life and motivated me to start my own yoga and nutrition studio.
After some further training in the field of yoga and nutrition, I left my old job and opened my yoga and nutrition studio.
For 8 years now you have had your own yoga school in Walsrode. Do you sometimes miss your old job? Would you do something else if you could turn back time?
I like to think back to my old job.
I often miss my old colleagues. It was a very nice time and I learned a lot, which I can use now in the organization of my studio.
However, I have never regretted the step to self-employment.
What is special about yoga in the landscape of Lüneburg Heath?
I love to practice yoga outdoors in the countryside.
Nature is absolutely calming and at the same time inspiring for me.
I especially like Lüneburg Heath because of the wonderful expanse and the colourful heath landscape.
I'm not a fan of mountains at all, so I feel totally restricted.
That's why the flat North German landscape is beautiful for me.
What is happiness for you?
If you can follows your intuition without fear you will manage to keep a happy mind. Even the world's best cyclist, Lance Armstrong, defeated cancer and won the Tour de France.
Yoga helps to positively influence the mind. This condition means happiness for me.
Does yoga make you happy? Why?
Yoga makes you happy because it balances emotional fluctuations, focuses your mind on the essential, and enhances physical awareness.
After a yoga session, I feel happy and balanced all around. My mind is calm, and I can face the world with patience and kindness.
What I also consider happiness is the physical fitness that I achieve through intense power yoga. I find nothing worse than being trapped in a weakened body.
Strong muscles, flexibility, and endurance are just as important to me as a happy mind. To me they are related.
That's why my yoga classes are physically challenging, which is typical of the power yoga style.
Sometimes you have to go beyond your own limits to change the body and mind.
What is your favourite yoga exercise and why?
My favourite yoga exercise is the headstand. I could stay in it forever, looking at the world from a different angle, which helps solve some problems.
You are vegan and also give ayurvedic cooking classes. What is special about this diet and why is it important to you personally?
I've been a vegetarian for over 10 years and mainly cook vegan food at home.
I am a total fan of Ayurvedic cuisine. It inspires me with its intense taste and many spices, which in turn ensures healthy digestion and exceptional taste.
When using essential oils in the preparation of the food, the whole kitchen is filled with a pleasant and inspiring smell.
Do you know about nudity yoga? What do you think about?
I heard about naked yoga. If people enjoy it, then they should do it. But it's not for me.
I would not feel comfortable doing it. There are now countless types of yoga. Everyone should find their own style.